How To Decide Fly Reel Size
Have a question you want answered? Email it to us at [email protected].
Question: I just bought a new 5-weight rod. How do I know what size and weight reel I need to use with it?
Rob V., Lafayette, CO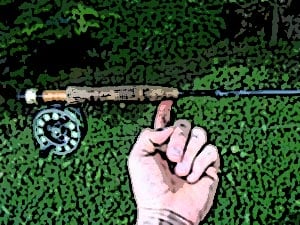 Answer: I asked Orvis tackle designer Steve Hemkens for some help on this one, and he acknowledged that there is no mathematical formula that allows you to compare a rod's advertised weight and length to the weight of a reel. He recommends that you take the rod to a fly shop and try it with several reels recommended for a 5-weight line to see which ones balance the best. Ideally, you'd want to have line and backing on the reels, but line and backing represent just a fraction of the total weight when compared to the weight of the reel itself.
Hold the rod as if you were going to cast it to see where the "pivot" point is for your particular grip. This point is one inch below the top of the cork handle. Put the reel on the rod and then try to balance the outfit on your finger at that pivot point. If the outfit is properly balanced, it should pretty much balance perfectly, with the weight of the reel offsetting the weight of the rod out to the tip. If the reel is too light, the tip will fall toward the floor. If the reel is too heavy, the butt will tilt downward.
The truth is that reel manufacturers do a pretty good job of policing the widths, diameters, and capacities for reels designed for a specific line weight, Hemkens says, so the biggest differences are in weight. For years, rod makers have been touting the lightness of their products, but a super light reel is not always the best thing. If it does not offset the weight of the tip of the rod at the pivot point, a reel can make a high-performance rod feel heavy, sluggish, and less responsive. That is why your best bet is to go into a good fly shop with selection of reels you're interested in buying and put them on your rod to see which one looks and feels the best.