The Best Wading Jacket for You
The rain was coming down by the bucket and I huddled under a pine tree, praying that I wouldn't get too wet. My proprietary waterproof system had utterly failed, and I wasn't too surprised. An old ski parka layered on top of a fleece vest wasn't exactly the bastion of water-repellence technology I hoped it would be. As a result of being wet and cold, I was missing out on the fishing—for golden trout, of all things! If you've ever fished for golden trout before, you know getting to them is half the battle.
It was on this trip that I learned the real value of a solid wading jacket, and I resolved to buy a nice one after getting out of that downpour. The problem I ran into, though, was how to pick the right one for me. I wasn't sure where to start, and the reviews of wading jackets at the time didn't exactly clear things up for me.
That's what I aim to do with this piece. We'll dive into some of the features you should look for in a wading jacket, as well as some factors to consider that will likely influence your decision. As always, we'll end with a list of wading jackets that I've either personally used myself or had recommended to me by anglers I know and trust.
Consider the conditions
The first thing to consider when looking for the best wading jacket for you is the conditions it'll most likely be used in. Since I live and fish mostly in the Rocky Mountains, I don't need a bombproof rain jacket like my buddies in southeast Alaska use. They're in the rain more often than not. I rarely face conditions that tough.
You can quickly spend a lot of cash on wading jackets if you opt for the ultra-premium steelheader-deluxe models. While those are nice to have, they're far from necessary for the fishing I do. There's a fine line between being prepared and preparing for a disaster that won't ever happen.
Keep it warm
I'm a firm believer in layering for any outdoor activity, and fishing in the rain is no exception. I prefer a rain shell over an insulating layer, as that's what keeps me most comfortable on the water. I'm sure plenty of anglers agree with that.
But do you? That's the key here. If you want a do-it-all wading jacket that both keeps you dry and insulates, go for it. Don't let one person's opinion talk you out of picking a piece of gear you know you'll enjoy.
Packability
Finally, my favorite wading jackets are packable. They'll squeeze down and fit in a backpack, under the seat in a drift boat, or anywhere else where they're out of the way. A good packable wading jacket should be light, too, so that carrying it around all day if the forecast calls for rain doesn't become an inconvenience.
So with all of these features in mind, let's take a look at the wading jackets I'd personally recommend.
Insane build quality
Thoughtful design
Light and packable
The Skwala RS Jacket is the standard to which I personally measure every non-insulated wading jacket. Yes, Skwala is a new company, but their products are among the best on the market. What makes the RS Jacket stand out is its insanely high build quality and attention to detail. The RS Jacket is designed a half-size larger to fit over an insulating layer and your waders, so you don't have to worry about this jacket being a tight fit. The pull tabs for the jacket's hood are located inside the chest pockets to eliminate anything that might potentially catch fly line. And this thing will hold up to the worst downpours imaginable. It also helps cut the wind, and is extremely well-articulated, so it doesn't bunch up when you're hiking, rowing, or casting. What more could you ask for from your wading jacket?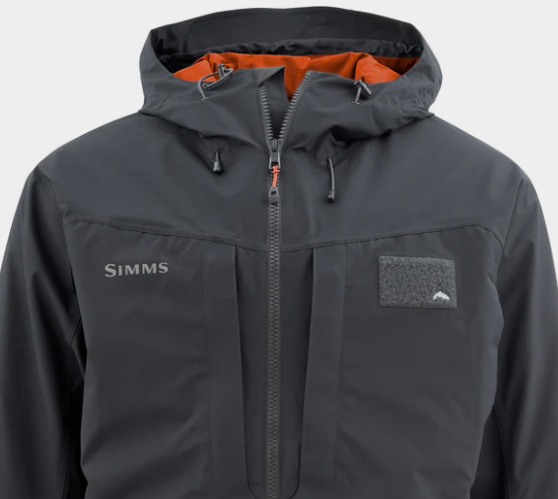 Insulated for added warmth
Fly box friendly pockets
GORE-TEX lined
The Bulkley Insulated Jacket is Simms' answer to the worst weather conditions imaginable. Seriously, this thing is bomb-proof. For starters, it's lined with GORE-TEX both inside and out, which Simms says will keep you dry even if you're wading in past your belly. The PrimaLoft insulation is proven to keep you warm, and Simms engineered the sleeves to prevent water from flowing up them even if you stick your arm in the river. The pockets are designed with fly boxes in mind so you'll always have what you need within easy reach. If the ultimate in both warmth and waterproofing are what you're after, the Bulkley is hard to beat.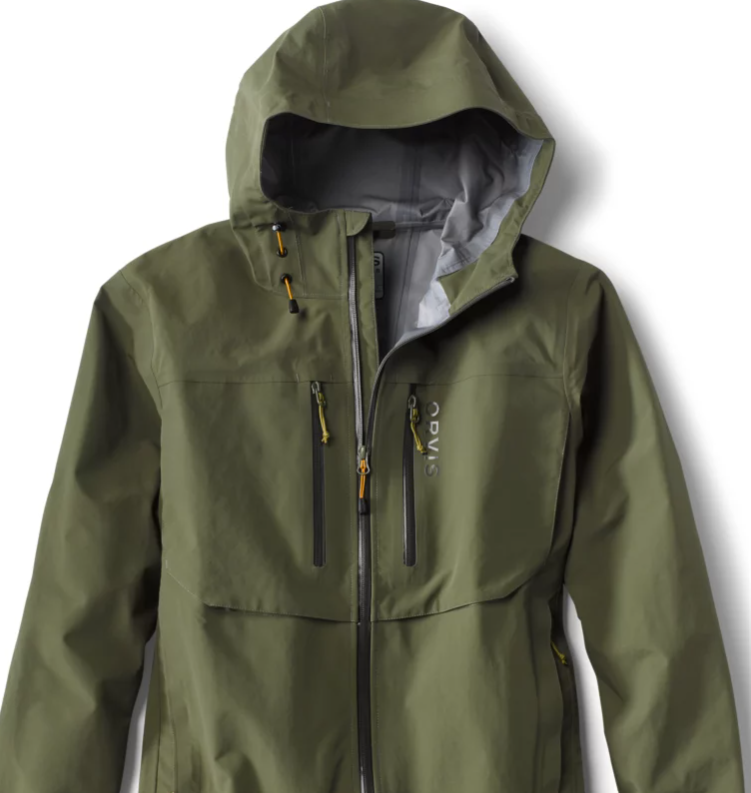 Very breathable
Rear D-ring for net attachment
Lots of pockets
The Orvis Clearwater Wading Jacket offers a ton of features in a more budget-friendly price range. I'm particularly fond of the integrated D-ring for attaching a net, which removes the need to wear a full fishing pack with this jacket. It's designed to slip over the top of all your gear, freeing you up to move unencumbered while on the water. The Clearwater also features a three-layer nylon shell that'll keep you dry but offers superior breathability, as well. Add on the legendary Orvis quality and you're looking at a wonderful wading jacket.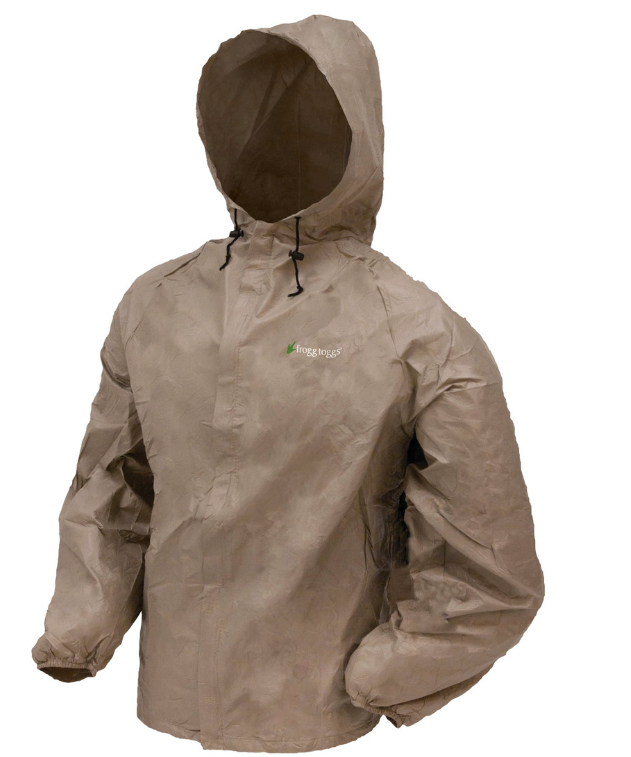 Incredibly light
Cheap
Completely waterproof
This jacket from Frogg Toggs costs a whopping $24.99, and it's one of my absolute favorites. This thing is light, and packs down tiny. It'll fit in a day pack without any problem. But it's also completely waterproof, and does a decent job of retaining some of your body heat. Now, this is a no-frills jacket, intended only to keep you dry. You're not getting a slim, well-cut hood, or articulated sleeves. What you're getting is the best bang-for-your-buck rain jacket on the market, and one I used for years before getting a wading jacket that had a few more features.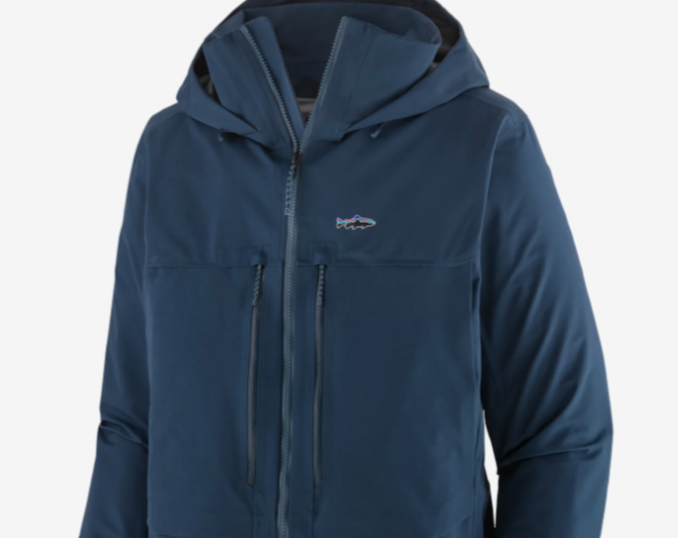 Made from recycled nylon
Low-profile pockets
Snag-free design
Patagonia's Swiftcurrent Wading Jacket is just another excellent entry in the company's line of fantastic gear. This wading jacket places an emphasis on reducing or eliminating the possibility for your fly line to snag on it, which is a feature many anglers should appreciate. The fully-waterproof shell is made from 100-percent recycled nylon and it has plenty of pockets for storing fly boxes and all your terminal tackle. The jacket only weighs a hair over 22 ounces making it extremely light and easy to stuff into a day pack.
There are tons of wading jacket options on the market, and this list is only intended as a jumping-off point. Remember to carefully consider what features you do and don't need. Something minimalist like the Frogg Toggs might be perfect for you while your buddy may need something with all the pockets and hemmed hoods.
Regardless of what you choose, make sure to take care of the jacket so it takes care of you when you need it most.
---