Good Fly Fishing Books for 2019 and Beyond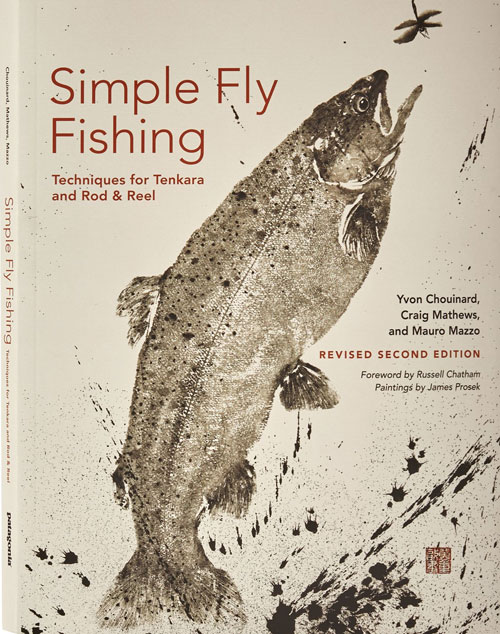 Popular New Fly Fishing Books
Thomas McGuane once told me that the only subject on which more books had been written than fly fishing was math. With so many options, how's a person to choose?  Well, I'd suggest you approach the challenge like a competent fly fisher approaches a stream: carefully,  looking for the right angle–then being ready for good things to happen.
The most recent edition of The Orvis Fly-Fishing Guide is a great starting point.  Tom Rosenbauer is one of the most prolific authors in fly fishing, and for good reason: he's spent a lifetime teaching, talking about and thinking up new strategies for fly fishers young and old.  Pair up this book with another bestseller,  The Orvis Guide to Small Stream Fly Fishing, and you've got a lot of interesting reading ahead.
The new edition of  Simple Fly Fishing is coming out in mid-January, but you can order your copy now.  Along with Craig Mathews and Mauro Mazzo, Yvon Chouinard, who is founder of the outdoor gear company Patagonia, set out to simplify fly fishing and make it more accessible through the exploration of tenkara–an ancient Japanese style of angling involving just a rod, leader and fly.  The first edition of this book was a great success, and the upcoming release has grown to 192 pages and includes 35 fly-tying recipes. If going simple appeals to you, we also highly recommend Tenkara USA's tenkara, an elegant book by Daniel Galhardo, who single-handedly popularized this very effective and easy-to-learn style of fly fishing in the US.
Not all fly fishing is about trout, and in fact hooking a smallmouth bass on a muddler minnow was the first fly fishing experience many of us had.  If you're lucky enough to be within driving distance of one of the great eastern US or midwestern smallmouth rivers, be sure to read Fly-Fishing for Smallmouth: in Rivers and Streams by Bob Clouser, the long-time guru of this corner of the sport. Pair this with Dave Karczynski's excellent Smallmouth: Modern Fly-Fishing Methods, Tactics, and Techniques and you'll be completely ready for some of the most exciting and accessible fly fishing there is.
Keep reading for many more selections…
---