Gear That Works: Korkers Interchangeable Sole Boots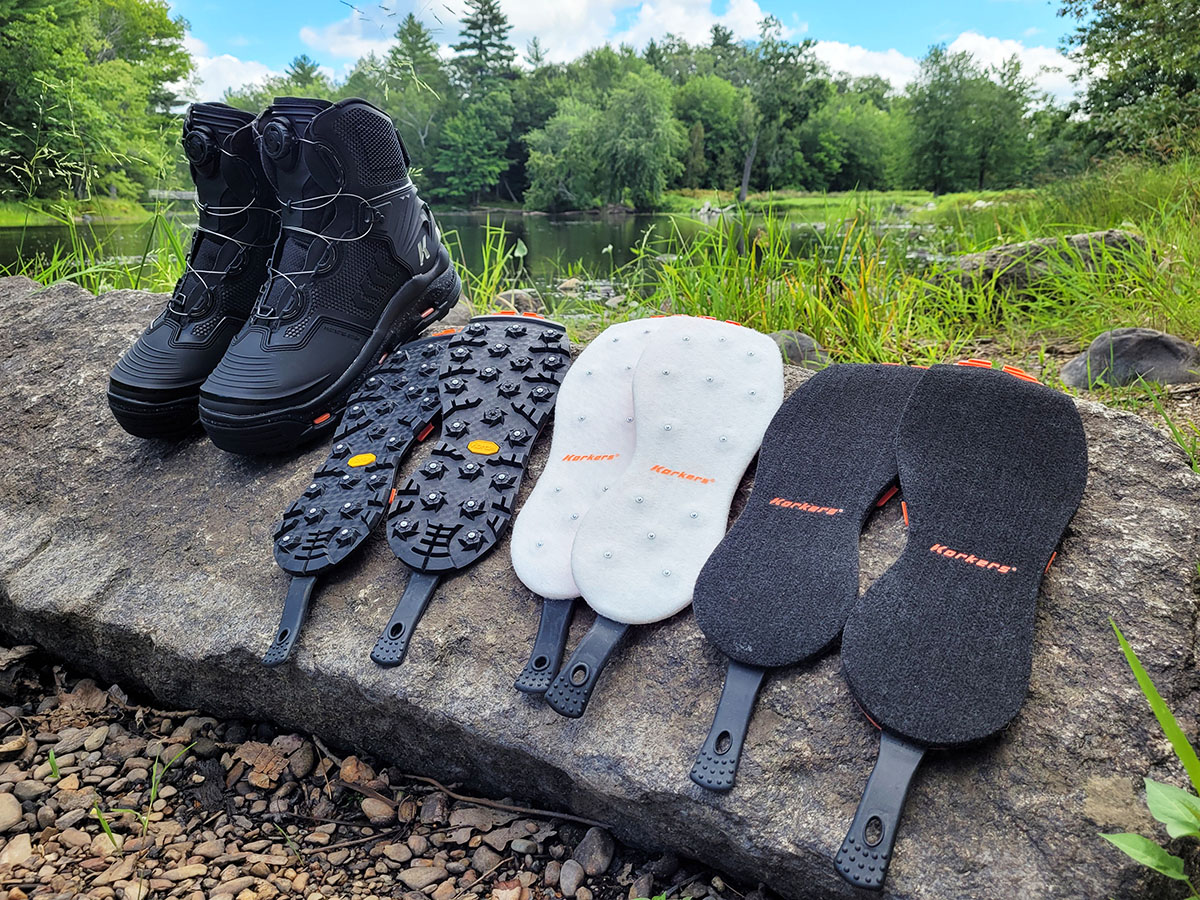 Living in New England, I fish a wide variety of water. From large rocky rivers to small sandy coastal streams and boulder-strewn freestone streams to muddy flows, New England has some of the most diverse and challenging wading in the nation. Add to this float tubing, drift boat, and raft fishing and one would need a wading boot inventory that rivaled a fly shop to address all situations well and safely.
I have fly fished for roughly 45 years, owned a fly shop for 15 years, and written about fly fishing tackle for 20 or so years. For me, few product advances are as notable as the introduction of interchangeable-sole wading boots. While not everyone can afford multiple pairs of wading boots, everyone can afford a single pair with multiple soles to address their specific needs and conditions.
Another benefit of interchangeable-sole wading boots is that you can replace worn soles by simply buying new ones. In most cases, manufacturers of fixed-sole boots do not offer sole replacement. While you can replace them yourself, it's not cheap, it's not easy, and it never comes out as well as the factory installed sole. As a result, in most cases, when the soles on a fixed-sole wading boot wear out the boots are thrown away even though the upper may still be intact.
In addition to the obvious benefits of interchangeable-sole boots, there is also an environmental component. Buying new soles rather than new boots reduces our ecological footprint by lessening what ends up in the landfill.
Interchangeable-sole boots are also ideal for the traveling angler, as you can bring one pair of boots and multiple soles rather than multiple boots, or worse, trying to get too much out of any one pair of boots. It also makes it easier to adhere to local laws such as felt prohibitions.
Several vendors have tried and failed to come up with an effective interchangeable-sole boot. In most cases, the soles either didn't stay on or they're awkward to work with. The first and really only company to truly crack the interchangeable-sole wading market was Korkers. Long known for their over-the-boot cleated sandals, Korkers now offers a full range of interchangeable-sole boots and soles.
To be fair, Korkers did not invent the idea of interchangeable-sole boots nor were they immediately successful in regard to developing a viable solution. But to their credit, Korkers dealt with design and functional issues, changed the general configuration several times, and stayed in the saddle until they came up with an interchangeable-sole boot system that works quite well.
Korkers interchangeable-sole wading boots have roots in the Pacific Northwest logging industry where log drivers encounter dangerous conditions on a daily basis. These lifesaving over-the-boot sandals were made from discarded tires and carbide studs.
Next up were steelhead fishermen, who were looking for a way to safely navigate the slippery streambeds found on the North Umpqua River. Using the prototype created for loggers, they took the wading sandal to the next level.
Sixty years later, Korkers now offers a full line of interchangeable-sole boots featuring such innovative features as BOA lacing system, Vibram soles, and quick-dry hydrophobic materials. With ten boot options and nine soles, Korkers offers something for everyone regardless of budget or the specific conditions you encounter while afield.
My history with Korkers multi-sole boots dates back to the very early days. I carried them in my fly shop before most others did. Over a period of 15 years, I carried the first-, second-, and third-generation interchangeable-sole boots. I also represented Korkers at the Marlboro, Massachusetts, Fly Fishing Show before they had a northeast sales rep.
A viable interchangeable-sole system didn't happen overnight or without some level of misfires. While the first-generation system worked for many, it did not work for me. Within a couple of months, I lost two soles. Both had become detached in deep mud. It soon became evident that it was a size issue, as well as the flat toe insert, with larger sizes more likely to fail than smaller ones. With all sizes sharing the same toe insert tab, larger soles flexed enough to become disengaged.
The second-generation Korkers interchangeable-sole system addressed a couple of problems, but created a couple of new ones. A unique key system and ridged toe insert held the soles tightly in place and the addition of a snap-in heel tab ensured that even if a sole did come loose it didn't fall off. However, they were difficult to work with, and the rubber side edges lessened the amount of coverage when using felt soles.
Today's system, or third generation, eliminates the need for a key, maintains the ridged toe insert and heel tab, and provides full sole coverage when using felt. The soles are easy to put in and take out, yet they hold incredibly well. After several years of use and abuse, I have not lost or even loosened a generation-3 sole
Korkers was the first to employ a BOA lacing system in a wading boot. But even this did not go off without a hitch. The first boot I got with a BOA had a low-torque dial. While admittedly slow, I was able to get my boot good and tight. The second had a high-torque dial, which while fast, would not tighten as well as the original one. My third pair seemed to be more in line with the first and worked as expected.
I note the failures not as a criticism, but as a testimony as to how hard Korkers worked to get the interchangeable-sole system right, as well as interjecting technology like BOA and Vibram. Many lesser vendors would have, and some have, given up and moved on to a less risky proposition.
While I could go on and on about the technology associated with Korkers boots, it's the utility, versatility, and cost-effectiveness that means the most to the average fly fisher.
Today Korkers offers a viable, and in fact solid, solution to the variable conditions faced by fly fishers, as well as the economic realities in regard to addressing these conditions. From the affordable Greenback boot which starts at $119.99 with felt soles, to the new River Ops BOA that tops out at $319.99 with Vibram and studded Vibram soles, Korkers has something for everyone.
Most men's boots are available in size 7 through 15. Some of the higher end boots start at size 8, and the mid-price Buckskin comes in size 5 through 15, making it an option for children. Women's boots come in size 5 through 11.
All boots are available in two configurations—rubber (proprietary or Vibram) and felt, and rubber and studded rubber (proprietary or Vibram) with the latter costing roughly $20 more than the former. And as noted earlier, the Greenback comes in a felt-only option was well. There are two boots designed for women and in women's sizes, Buckskin Mary and Women's Darkhorse.
Soles are available in proprietary rubber, proprietary studded rubber (13 studs per sole), Vibram XS Trek rubber, studded Vibram XS Trek rubber (18 studs per sole), felt, studded felt, rubber with carbide spikes, rubber with aluminum hex discs, and rubber with aluminum bars. Prices range from $39.99 for felt and proprietary rubber, to $69.99 for studded Vibram, spiked, and aluminum; with studded felt, and unstudded rubber falling in between.
While I have other wading boots to address very specific conditions, I always have a pair of Korkers. I have since they first came out. When in doubt, exploring fishing away from home or while on the road, I always reach for my Korkers. If you haven't already bought a pair you can learn more at korkers.com.
---