The Best Fly Tying Vise for You
My dad and grandfather both tied flies, and I grew up surrounded by tinsel, feathers, hooks, and thread that I was under strict orders to never touch. I remember sitting for hours watching my dad tie streamers and dry flies (he never tied nymphs because he didn't fish nymphs), entranced by the whole process. I begged and begged to learn, but it wasn't until I was 10 or so that my dad finally relented.
All these years later I have my own vise, a pile of hackle I inherited from grandpa, and a messier tying desk than my dad ever kept. At times, I've only ever tied out of necessity, but I've grown to love fly tying for its relaxing nature. Unless I'm tying size 28 parachute midges. That's an exercise in frustration.
Regardless of why you're getting into tying flies, you'll be doing a lot of research on vises. Do you need a rotary vise? What about a pedestal or a C-clamp? Should you spring for the extra set of midge jaws?
Today, we'll dive into the different features you'll find on tying vises and recommend a few products that should fit your needs.
Rotary vs Stationary
Vises differ in many ways, but the feature that many folks pay attention to is whether a vise has a rotary function.
A rotary vise gives tiers the option to rotate the vise jaws a full 360 degrees. From spinning dubbing onto streamers, to evening spun deer hair, a rotary vise allows tiers to see all sides of the fly. The rotary function is great for evening out UV resins, too, especially with resins growing in popularity.
While rotary functions are great, you don't need a rotary vise to start tying. I bought my first rotary vise just a few years ago, and tied untold dozens of flies on an old stationary vise.
Often a stationary vise is cheaper than a rotary one. So if you have a smaller budget you'll want to look into stationary vises.
Pedestal vs C-clamp
You can attach your fly tying vise to your desk with either a pedestal or C-clamp. Pedestal bases are increasingly becoming the most popular option, because it's easier to adjust the location of your vise if it doesn't have to attach to the edge of a desk. If you're planning on tying a lot of flies, you'll want a pedestal base. Placing the vise in the middle of your desk is often a more ergonomic setup.
C-clamp bases are a good option if you want to take your vise on trips, and they generally take up less space than pedestal vises.
Extra Jaws, Material Holders
Some vises have the option to add extra jaws, often for tying very large or very small flies. Midge jaws are a popular addition as are jaws for saltwater fly tying.
Generally, most vises have jaws that are sized to tackle hooks from size 4 to 20. That covers the vast majority of the flies us anglers tie, and you can usually get away with tying even smaller flies in a standard vise. For years, I tied size 24, 26, and 28 flies on a standard vise. I've since had the chance to use midge jaws, and they're wonderful. But they're not a necessity, especially if you're just starting out with tying.
Extra-large jaws, for tying saltwater flies or big streamers, are a must if you're consistently tying big bugs.
Vise makers are constantly tweaking their material holders. I grew up tying on vises that never had a bobbin, thread, or material holder or clamp. Bobbin holders have become a game-changer for me, especially when dubbing bodies on dry flies, or wrapping wire on nymphs. That said, you can easily tie without them, so don't let the lack of material holders dissuade you from an otherwise great deal on a vise.
So with all these features in mind, let's dive into some recommendations for vises.
Full rotary function
Extremely stable vise jaws
Legendary quality
The Regal Medallion is one of the most popular vises on the market. It's solidly built and engineered with jaws that are known for being stable and tight. The Medallion has a full rotary function in addition to the vise head pivoting up and down, too. Regal offers this vise with both a C-clamp and pedestal base. For the money, it's hard to beat the ease of use and quality craftsmanship the Medallion boasts. This vise is compatible with all other vise jaws and bases that Regal builds, too.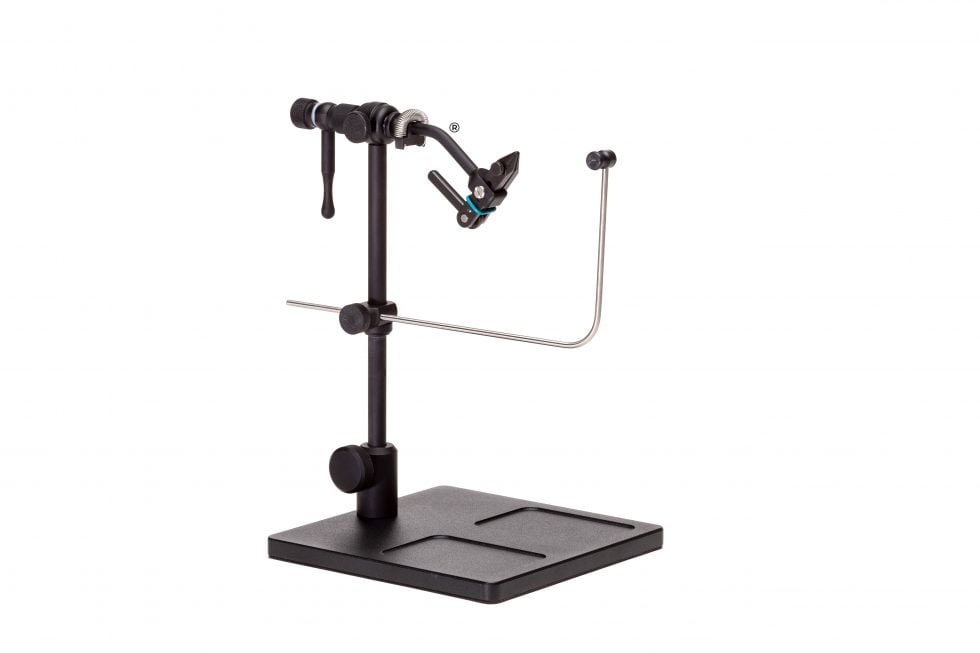 Affordable for Renzetti
Unique jaw and head design
Small and portable
The Renzetti Traveler is arguably the most popular vise on the market and has been for some time. Renzetti introduced the unique jaw and head design that allows for easier access to smaller hooks. This vise boasts a full 360 degree rotary function and a solid base included for a pretty reasonable price, for a Renzetti. The integrated material holder is a great feature, too.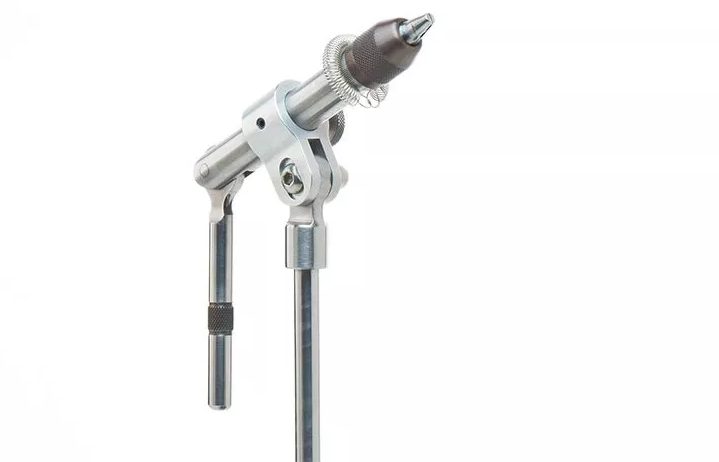 Classic design
Pedestal or C-clamp option
Integrated material holder
If you want a vise that looks and feels like a classic tying tool, then the Dyna King Supreme should be on your list. This vise is offered with either a pedestal or C-clamp base and doesn't have a rotary function. The jaws are closed with a classic lever system that allows you dial pressure on hooks up or down. The integrated material holder behind the vise jaws is great for keeping hackle, wire, flashabou, and other materials out of the way until they're needed.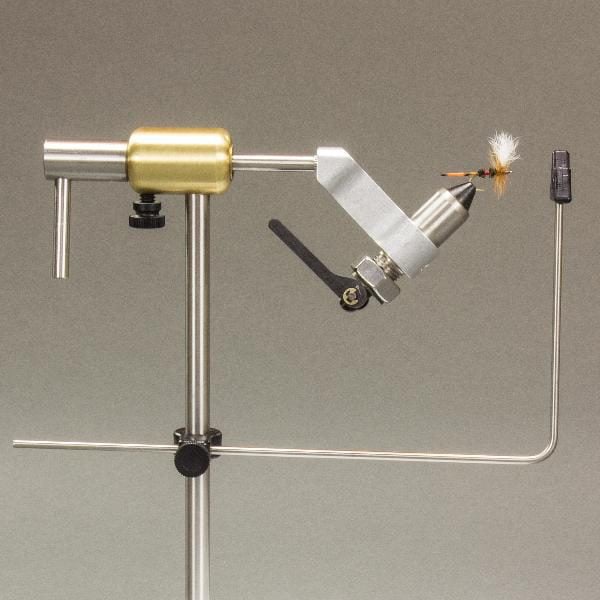 Made in USA
Reversible jaws
Extremely stable vise
The Peak Rotary Vise C-1 is a great option if you're looking for all the bells and whistles on a vise. It has the integrated materials holder, is built right here in the USA, and sports an extremely solid base. The big draw to the Peak, though, is its reversible vise jaws. The jaws are rabbeted to accept hooks in varying sizes. You can reverse the jaws to accept larger or smaller hooks, depending on what you're tying eliminating the need for extra jaws entirely.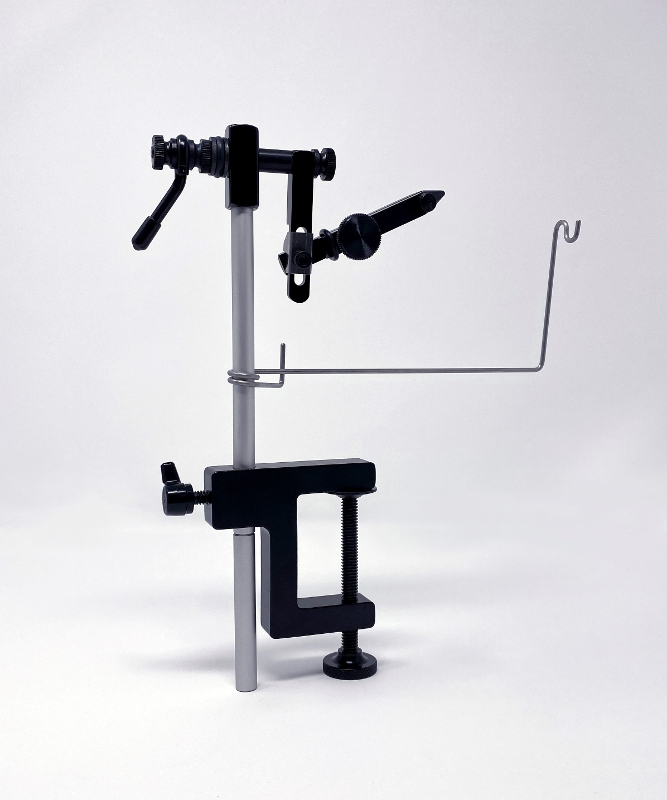 Extremely affordable
Wide range of hook sizes
True rotary function
If you're on a budget but want a rotary vise then the Griffin Odyssey Spider vise deserves your attention. This is Griffin's entry-level vise, but it has a true rotary function. On top of that, the jaws on this vise accept hooks from size 4/0 to 28. That's an enormous range, so you don't need an extra set of jaws to accommodate tying for your saltwater trip. For $120, it's hard to beat what Griffin offers here.
Wrapping Up
Ultimately, picking the right tying vise comes down to deciding what features you can't live without and then finding a vise that meets those needs within your budget. You can spend almost $1,000 on a vise if you want, but you certainly don't need to. Most folks tying today probably got their start on old, stationary vises, and they tied plenty of flies on that gear.
---